Worpswede from the Inside
artist's colony for
more than 125 years
Worpswede from the Inside
In 2014, Worpswede celebrated the 125th anniversary of the artists' colony foundation.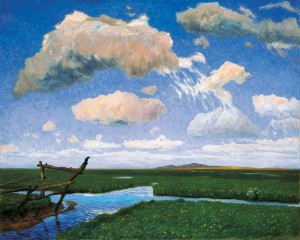 In 1889, the painter Fritz Mackensen visited the Teufelsmoor. He was delighted with the atmosphere of the country village Worpswede, the hard working peasants, the moor landscape and the sky manifesting its unique cue states and cloud formations. 
He encouraged his fellow students Heinrich Vogeler and Hans am Ende to take up residence in the beautiful village, too.


Today, 125 years later, some things changed in the village naturally. But the alleys covered with birch trees, the unique cloud formations over the marsh of the river Hamme and the old village centre with its large farm houses still exist. Worpswede celebrates – and presents until autumn many art exhibitions from first painters up to recent topics.
Immerse into the time 125 years back and empathize with the ancient lifestyle of Worpswede's first artists. Daniela Platz, a great-grandchild of Heinrich Vogeler, introduces you to the history of the artist's colony Worpswede and accompanies you on a trip through the village. By reference to her own family's history, she will tell you about ancient times and guide you through one out of four of Worpswede's museums. Your museum ticket enables you to visit the remaining three exhibition halls on your own. 


You will reside at

Hotel Buchenhof, the former residence of Hans am Ende, who was a cofounder of the famous artists' colony.
The package includes the following benefits:
2 nights' stay including gourmet breakfast at Hotel Buchenhof
Introduction to 125 years of Worpswede artists' colony by Daniela Platz, a great-grandchild of Heinrich Vogeler, including a trip through the village and a guided museum visit (2,5 hrs)
1 museum ticket including 4 museum visits
2 three-course meals to taste our local gastronomy
Total price per person with 2 nights' stay in a twin room: € 285,–
Single room supplement: € 45,–
Bookable starting from two persons.
We offer an additional one-hour lecture about the time of Worpswede's foundation, that will be held by Daniela Platz on demand. Price per person: 45,00 € (bookable before arrival).
For stays between November and March you will receive one additional overnight stay for free. You will only be charged for your breakfast.
Group discount starting from 10 persons on demand.
Particular items on the programme are subject to change.
Possibly required transfers and beverages are not included.