A cycling tour into the moor
Active relaxation
in the "Teufelsmoor"
A cycling tour into the moor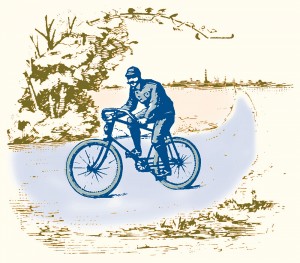 Ride a bicycle on the tracks of the first artists in the landscape around Weyerberg and in Teufelsmoor and experience the vast open sky in Hammeniederung and the special light in the moor, which can be seen on several pictures.
Cycling in Worpswede and Teufelsmoor is sheer pleasure. You can bike around easily without meeting a lot of slopes and in between take a break in one of the restaurants and cafés at the roadside or spend an hour on the natural trail or visit the Torfschiffswerft museum. Perhaps you will make a day tour to Fischerhude, the artist village in the neighbourhood. We have numerous destinations that can be discovered with the bicycle.
Of course, you will take part in a guided tour as well and get to know, how a farm village was converted into an artist's colony.
You will also get to know the culinary pleasures of our region. Typical regional dishes, prepared and served in our traditional restaurants by the experienced chefs.
We offer the following in this bicycle package:
2 overnight stays with breakfast in Hotel Buchenhof
1 welcome drink
2 multi-course dinners in traditional restaurants of Worpswede
1 guided tour of the place and the art including a visit to a gallery or a museum
dish of coffee/ tea with the phenomenal Moorteufel cake
1 rented bicycle in good shape
1 bicycle tour map of Teufelsmoor and Fischerhude
Package price
per person in a twin room:€ 245,–
Single room surcharge: € 45,–
The package can be booked for 2 or more persons,
arrival on Wed-Sat.
We reserve the right to change individual items of the program.
Transfers and drinks are not included.
For stays between November and March you will receive one additional overnight stay for free. You will only be charged for your breakfast.