Art and landscape in Worpswede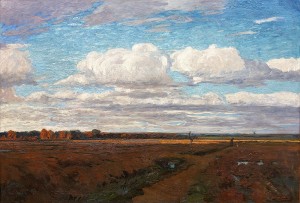 Here comes the classic under the Worpswede Packages to give you an overview of our "Weltdorf (world village)".
"It is a peculiar place… There begins a sky of indescribable variability and magnitude …" These words by the writer Rainer Maria Rilke spectacularly describe the appeal that the first painters must have felt that inspired them to settle in Worpswede and the Teufelsmoor.
With this Package you'll get to know our "Weltdorf" and feel the stimulus of the olden times.
This Package covers following services:
2 overnight stays with breakfast
1 welcome drink
2 three-course dinner
1 guided art tour through the village incl. exhibition visit
1 Moor walk (on Fridays 15.00 hours) or visit of the peat boat shipyard (November to February; coffee and cake)
1 combination entry ticket for different galleries and museums
Package price
per person in DZ: € 250,00
Single-bed room charge: € 45,–
Can be booked for 2 or more persons;
Journey Wed – Sat
We reserve the right to change individual program items.
It is possible that the required transfers and drinks are not included.
For stays between November and March you will receive one additional overnight stay for free. You will only be charged for your breakfast.