"Full content"
from the moor
Cabbage and culture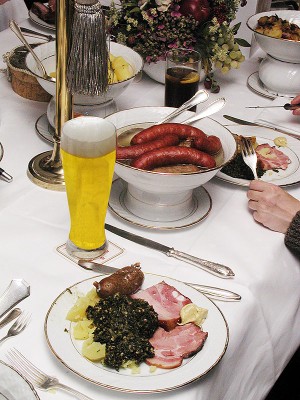 Enjoy Worpswede and its cultural highlights in the peaceful time of the year and simultaneously experience a traditional custom from Teufelsmoor.
Since long, the local population has always understood, how to revive their spirits after a hard day's word in the moor with a good, hefty meal: "Cabbage and toff".
Even when it seems a little strange, the hot green cabbage with a large piece of flesh and the spicy toff (Gruetzwurst) is an absolute specialty of our region. For the same reason, we would like to invite you to combine the cultural experiences of a visit to Worpswede with good food.
Following program contents are planned:
2 overnight stays in the nostalgic ambience of the historical Buchenhof incl. heavy breakfast buffet
Welcome drink
Brief introduction to the Worpswede history from the moor colonization till today
Guided cultural walk through the place with exhibition visit
Dinner (cabbage and toff) in a Worpswede traditional restaurant
Rental cycle with map to Teufelsmoor
Package price
per person in DZ: € 200,00
single-room surcharge: € 45,–
can be booked for 2 or more persons;
Journey Thu-Sat
As "Cabbage and toff" taste best only during cold times of the year, we offer this package only during November to March
In case of groups of 10 or more persons, a traditional "cabbage tour" incl. walk and social programs is also possible. Please ask us for details and conditions.
We reserve the right to make changes in the individual program items. It may be that the required transfers and drinks are not included.
For stays between November and March you will receive one additional overnight stay for free. You will only be charged for your breakfast.