Contemporary comfort
in a nostalgic atmosphere
Buchenhof today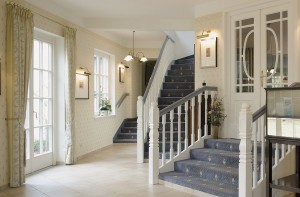 Savor some of the beautiful and peaceful days in Buchenhof. This exquisite atmosphere takes you back into the "good old times" – without having to let go of the modern comforts.
We had a concerted idea while designing all the spaces and rooms – to design everything individually in the style of the turn of the century. Buchenhof lies away from the traffic hubbub on a wonderful place surrounded by forest.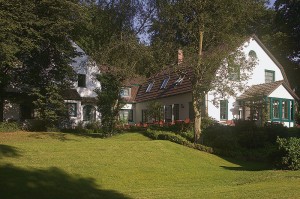 A marvelous garden with old trees invites you to take a walk after the breakfast and listen to the chirping of the birds or just watch squirrels playing. A small forest track directly leads you to Weyerberg, where you can enjoy the view of the far-stretched landscape. Only a few minutes of walk, and you are at the city center. Here you can visit numerous museums, galleries and other objects of interests in the city, undertake a cycling tour or simply sit in a cozy café and taste the home-made tarts and cakes.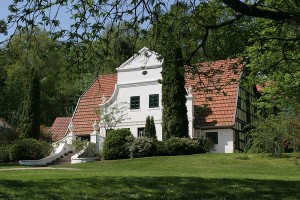 By the way, the true wallowers use the colder months of the year for a sojourn. Then it is again peaceful in Worpswede, it is very comfortable in the pubs and the landscape has an exquisite attraction. In short, you can just relax or drift away.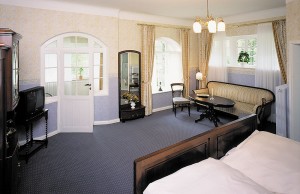 Buchenhof offers you 52 beds in 28 double-bed and single-bed rooms. The history of the hotel has been the inspiration for us while designing the guest rooms. All the rooms were completely designed in the style of 1900. Antique furniture, perfectly designed windows and wall decorations and loving details create a harmonical feel-good ambience. Each room is unique and one of its kind.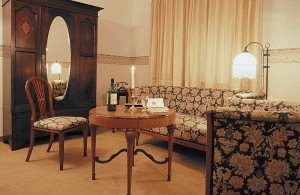 Still, you need not to forget the comforts of the modern times. All the rooms have shower or bath/ WC, analog telephone/ modem connection with extension option and personal answering machine as well as Sat TV, radio alarm, W-LAN.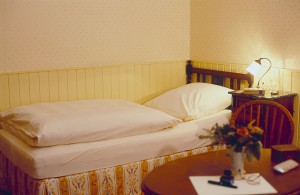 Some of the rooms have a south balcony or a terrace. Please inform us while booking for special requests e.g. allergic room, beds with excess length, guests with handicap, household pets etc.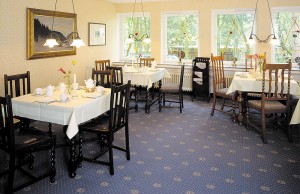 In the morning we request you to enjoy a rich buffet, supplemented by regional delicacies, in our breakfast hall. Pamper yourself with a cup of Ronnefeldt tea or freshly brewed coffee. We can also provide special diets and vegetarian food on prior agreement.
Here, like other places in the hotel, you will find the art of Hans am Ende on the walls. With a large presentation of his drawings, print graphic and pictures, your art enjoyment begins during breakfast itself.